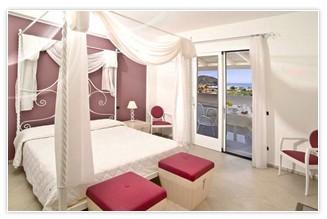 Mea Hotel is an elegant 4-star hotel which was opened in 2011. A stone's throw from the centre and in an elevated position, the view embraces the entire bay of Marina Lunga from Monte Rosa to the Castle of Lipari.

The structure is typically Aeolian: white exterior walls, pergolas with roofs of canes on which flowering plants climb, the seats in masonry walls and pinnacles that surround the perimeter of the roof.

The decor is rather Moorish style reminiscent of the Arabic influence on the island.
Inside, the walls are decorated with many paintings that recall the colours of the hotel: light blue, shades of purple and gray.

The swimming pool with views of the sea and the whirlpools is the true relaxation area where to linger over a cocktail or a refreshing drink.

The cuisine of the restaurant "Chimera" is a combination of fresh flavorus and vibrant typical Aeolian taste. The atmosphere is romantic with dim lights, candles on each table and the superb view.

The hotel offers a convenient shuttle service Mea upon arrival/departure from the port of Sottomonastero be requested at time of booking.

Wifi is available free of charge in public areas.

The use of swimming pool, jacuzzi and sun loungers is free as for the towels.
The reception which is open 24/7 can book scooters, cars, bikes, tours, tickets hydrofoils, airport shuttle, taxi, etc..

The bar is open 24 hours a day and serves snacks, fresh fruit salad, cocktail, drinks, aperitifs with a variety of savory appetizers.

Breakfast is a generous buffet of fresh fruit, homemade cakes, various pastries, organic jams, scrambled eggs, bacon and sausages, cold meats, savory pastries, fresh tomatoes etc.. We can serve, products suitable for coeliacs or those who suffer from allergies.